I decided to mount the trolling motor to the front of my NFO Outlaw Escape. This required me to design a bracket assembly that rests on the pontoons in front. I prototyped my first bracket out of 1″ schedule 40 PVC tubing and some aluminum plates and rectangular aluminum stock. I then replaced the PVC tubing with 1″ schedule 40 aluminum tubing and Kee Lite aluminum railing fittings from Simplified Building. The top aluminum plate is 20.50″ X 10.00″ X 0.20″ thick. The rectangular stock is 2.00″ X 3.00″ X 0.20″ thick. This piece is 20.50″ long. This is where the trolling motor attaches. The is an additional piece of aluminum plate mounted to the underside that has approximately dimensions as the top plate.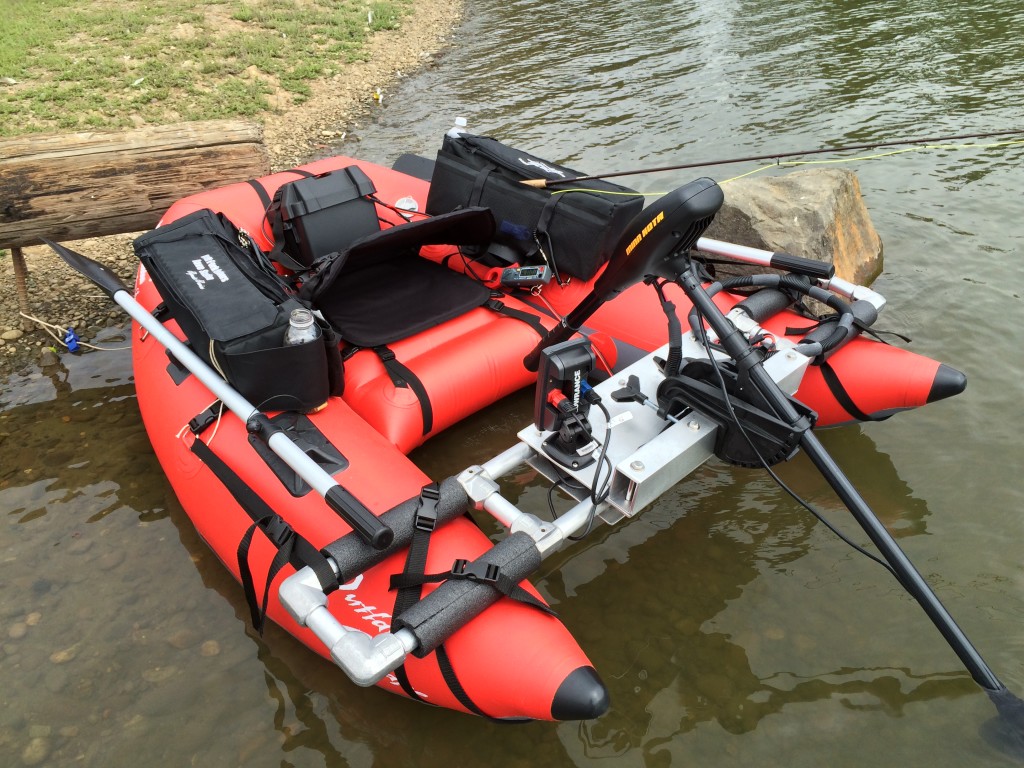 The trolling motor bracket is attached to my with 7 – 1″ Side Release Buckle Straps made with heavyweight polypropylene strapping. The side release buckles are aluminum.
One each side there are 3 straps. One at the front, one that goes around the pontoon and hooks on the foot rest and one that pulls the entire trolling motor bracket back that is connected to the front side "D" ring. The 7th strap is connect to the trolling motor bracket at the center and is looped around the foot rest. These straps insure that the trolling motor will not move or pitch when the motor is operating especially had higher thrust.
I have also added some water pipe insulation on the bracket where the metal bracket touches the pontoons.
Power is routed from the battery behind my seat to the trolling motor bracket via #10 stranded wire. The battery has a 50 amp fuse. There is an inline connector at the battery and another inline connector where the trolling motor power connects to the trolling motor bracket. There is also an inline connector between the DC power and my GPS system. The fish finder has its own connector. The fish finder and the GPS have their own 3 amp fuse that is part of a "power distribution" system on the trolling motor bracket.
The trolling motor bracket including the GPS mount and GPS, fish finder and camera mount weighs about 25 pounds. The trolling motor weighs about 23 pounds for a total of almost 50 pounds. One Power-Sonic – PS-12350 NB 12 Volts 35 AH battery weighs about 25 pounds and helps balance the entire setup. If I had both my batteries on this setup the balance would be even better. In actual use, once I am sitting in position the balance is perfect.